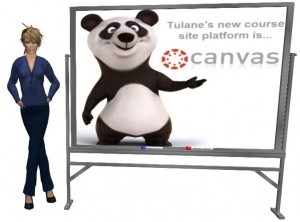 Canvas = Tulane = Spring 2017 Semester (or Fall 2016 Semester)!
Tulane will be using the Canvas learning management system (for all online course sites AND all face-to-face course companion sites) starting with the spring 2017 semester. In the meantime, some instructors will be "early adopting" the new Canvas platform and some instructors will be sticking with the myTulane Blackboard platform during the fall 2016 semester. More specifically, if you are registered for Kay McLennan's fall 2016 [online] Applied Strategic Management course, [online] Economics for Non Majors course, and/or [online] Business Ethics course, you will find the course sites (starting on August 22, 2016) in the ["new"] Canvas platform — accessible through the myTulane portal @ http://www2.tulane.edu/mytulane/.
To learn more about Canvas, visit the "Canvas Student Resources" page in the Tulane Canvas portal.