Kay McLennan, Ph.D.
EDUCATION
Doctor of Philosophy (Ph.D.), Administration, Curriculum, and Instruction (Concentration: Educational Leadership and Higher Education) Dissertation: "Technology Selection and Marketing Activities in Higher Education Patenting and Technology Transfer." University of Nebraska, Lincoln, Nebraska (2003)
Masters of Arts (MA), Economics (Concentration: Public Economics) American University, Washington, D.C.
Bachelor of Arts (BA), Political Science and Economics University of Maryland, College Park, Maryland
EXPERIENCE
Academic Career
January 2004 – Present: Senior Professor of Practice, School of Continuing Studies (SCS), Tulane University, New Orleans, Louisiana
Recent key academic publications (with a more expansive list in the Publications & Presentations section of this site) include:
Maxwell, D. B., and McLennan, K. L. (2012). Case Study: Leveraging Government and Academic Partnerships in MOSES (Military Open Simulator [Virtual World] Enterprise Strategy). Proceedings from the EdMedia Conference (Denver, Colorado).
McLennan, K. L. (2011). Tulane University School of Continuing Studies: Case Study in Online Quality Improvement. Continuing Higher Education Review, Vol. 75, 181-188. Available online at: http://files.eric.ed.gov/fulltext/EJ967819.pdf.
McLennan, K. L. (2006). Selected Distance Education Disaster Planning Lessons Learned From Hurricane Katrina. Online Journal of Distant Learning Administration. Winter 2006, Volume 9, issue 4. Available online at: http://www.westga.edu/~distance/ojdla/winter94/mclennan94.htm.
Lecturer, College of Business, Southeastern Louisiana University, Hammond, Louisiana. Taught the first online [microeconomics and macroeconomics] economics courses offered by the institution.
Instructor, Department of Business and Economics, Montgomery College, Rockville, Maryland. Taught macroeconomics (in a classroom setting).
Government Career (1980 – 1990)
Senior Financial Economist, Office of Management and Budget, Washington, D. C.
Economist, Economic Research Service (ERS), U. S. Department of Agriculture, Washington, D.C.
Economist, Office of Transportation (is now the Division of Transportation, Agricultural Marketing Service), U. S. Department of Agriculture.
Business Consulting
Founder of www.LouisianaFineArt.com, drew on an extensive computer background and hobbyist's enthusiasm for art to originate and develop an Internet domain for the promotion of art in the State of Louisiana.
McLennan Consulting, Inc., an economics consulting company specializing in researching and reporting on budget, transportation and agricultural issues; analyzing policy options; and forming and maintaining data bases. Completed projects include serving as an economics consultant on a National Science Foundation (NSF) study. The NSF study report was entitled "Science Education Programs—A Moving Finish Line," 1993.
ADVISORY
Served as an academic liaison to the U.S. Army Research Military Open Simulator Enterprise Strategy (or MOSES) project (2011 – 2014). MOSES web site is at: http://militarymetaverse.org.
RECOGNITION
Awards for winning submissions in the U.S. Army Research Lab Simulation and Training Technology Center Federal Virtual World Challenge in 2013 and 2012. Recognition for exceptional support during the 2015 Federal Consortium for Virtual Worlds event (see image below).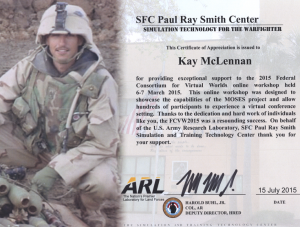 Awards for outstanding performance at the Office of Management and Budget, 1989, and the Office of Transportation, 1983.